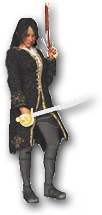 My best friend isn't a werewolf. What I don't understand is why she has to remind people of that.
Susan Leander just had the worst Halloween of her life. It would also be her last, in our world anyway. Taken by the Wyld Hunt, she found herself plunked into the middle of an Elvish rebellion and the only way to survive was to save a pirate from the hangman's rope. It was an action that would change the rest of her life.
Anathandra Varischkovna, Baroness Lesenvlk, made her mind up a long time ago. If she needed to be bad to do good, she would be the scariest monster in the room. After she was blown off course while hunting the fabled ship, Amantia del Mar, she wound up on the gallows in the town square of Clearwater. Her story wasn't meant to end there.
The Highwayman, Derian Fiske de Rennic, is just along for the ride. He goes where 'Than goes and if it means saving a fairy princess and bringing peace to the land, he's happy to oblige. He just needs to save the neck of the Baroness first.